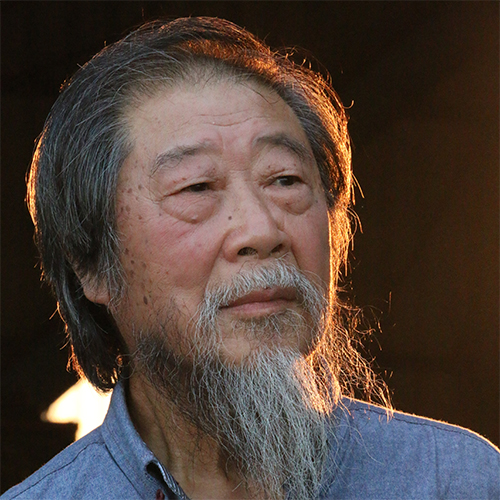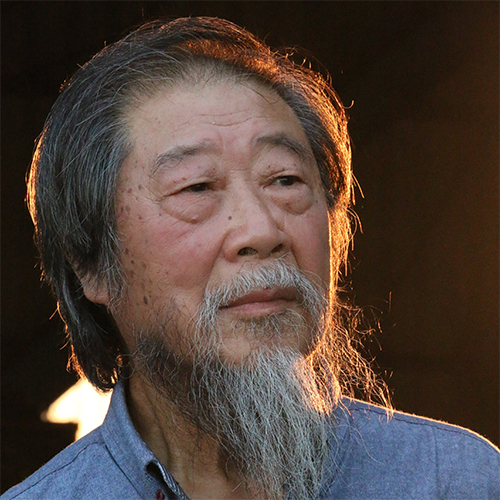 雖逾九十高齡,近年仍創作不休,創作能量飽滿,作品深受國內外各大美術館等典藏,展覽無數。
Lee is now in his nineties, but he is still full of creative energy. His artworks are collected by museums all over the world and have been displayed in countless exhibitions.
李再鈐認為:「天、地、人」三者共處於生物、生命和生態的無窮變化中,有榮衰,有存亡。人類在改造自然、社會和生活時,必須尊重天、地、人之共存共榮的原則,始可締造和諧、穩定、平衡的理想世界。
Lee believes that the relationship between heaven, earth and humankind are situated in endless and constant regenerating change; there are periods of prosperity and decline, life and death. When rebuilding nature, reforming society, and improving lifestyle, we must respect the principles of coexistence and co-prosperity that govern heaven, earth and humankind and construct an ideal world that is harmonious, stable, and balanced.
這件紅色不鏽鋼的作品以六個三角錐首尾相連,外圍合成一個穩定的六角型,象徵臺南歷年來多面向與多角度的發展特性;中空的部分代表人類需時時虛懷若谷,與自然和諧相處,方可通達天地的千變萬化,享受與之合而為一的快樂。
Heaven, Earth, and Humankind in Harmony, a bright red stainless steel hexagon sculpture, is a delicate ruby shining on Building II. The design of the red hexagon corresponds with the design of the white pentagon roof by architect Shigeru Ban, while the basic structure of triangles complies with the triangle staircases around the terrace, the giant triangle pillars supporting the roof, and the fractal roof composed of numerous triangle elements, forming a wonderful symphony of geometrical design.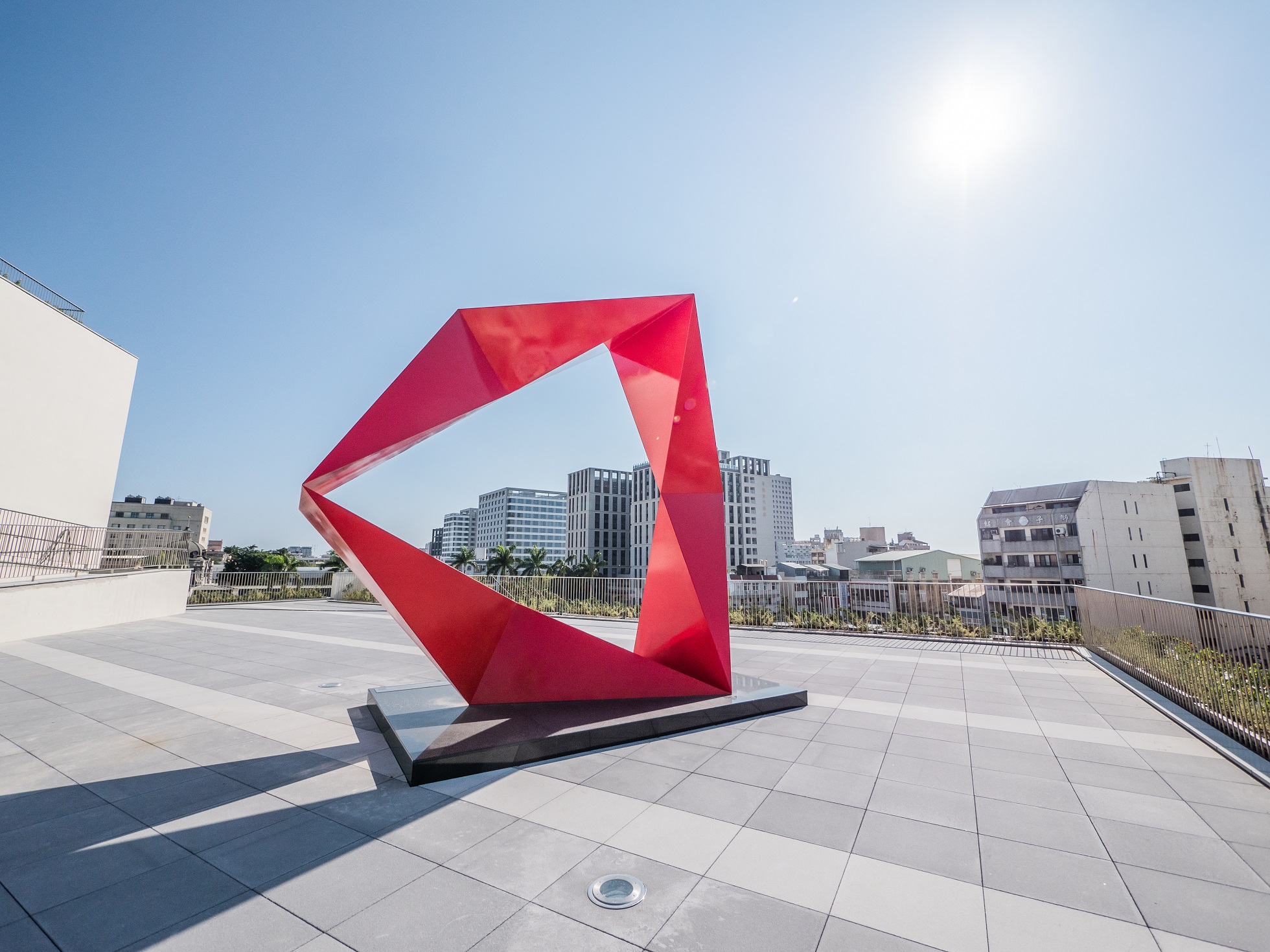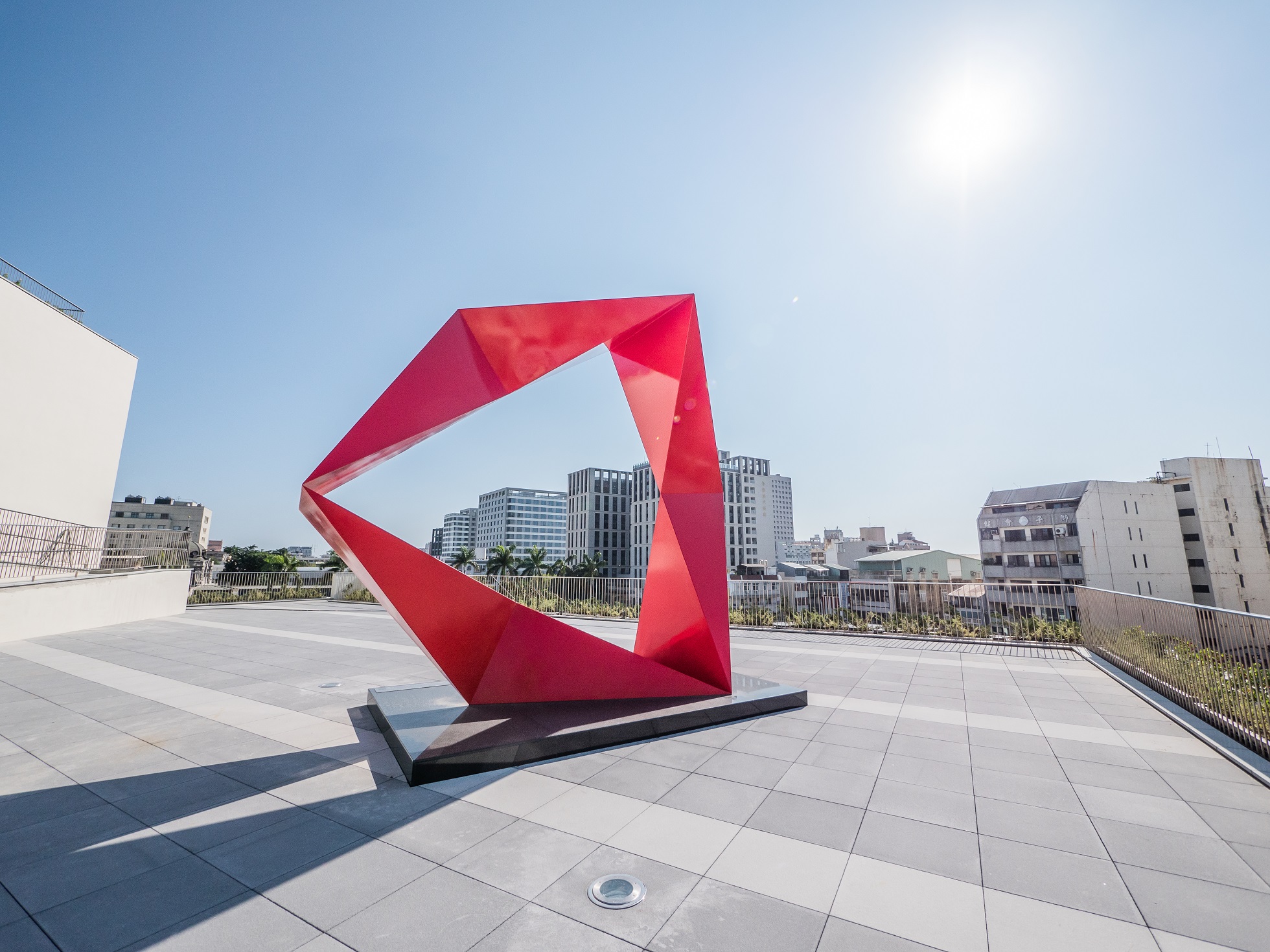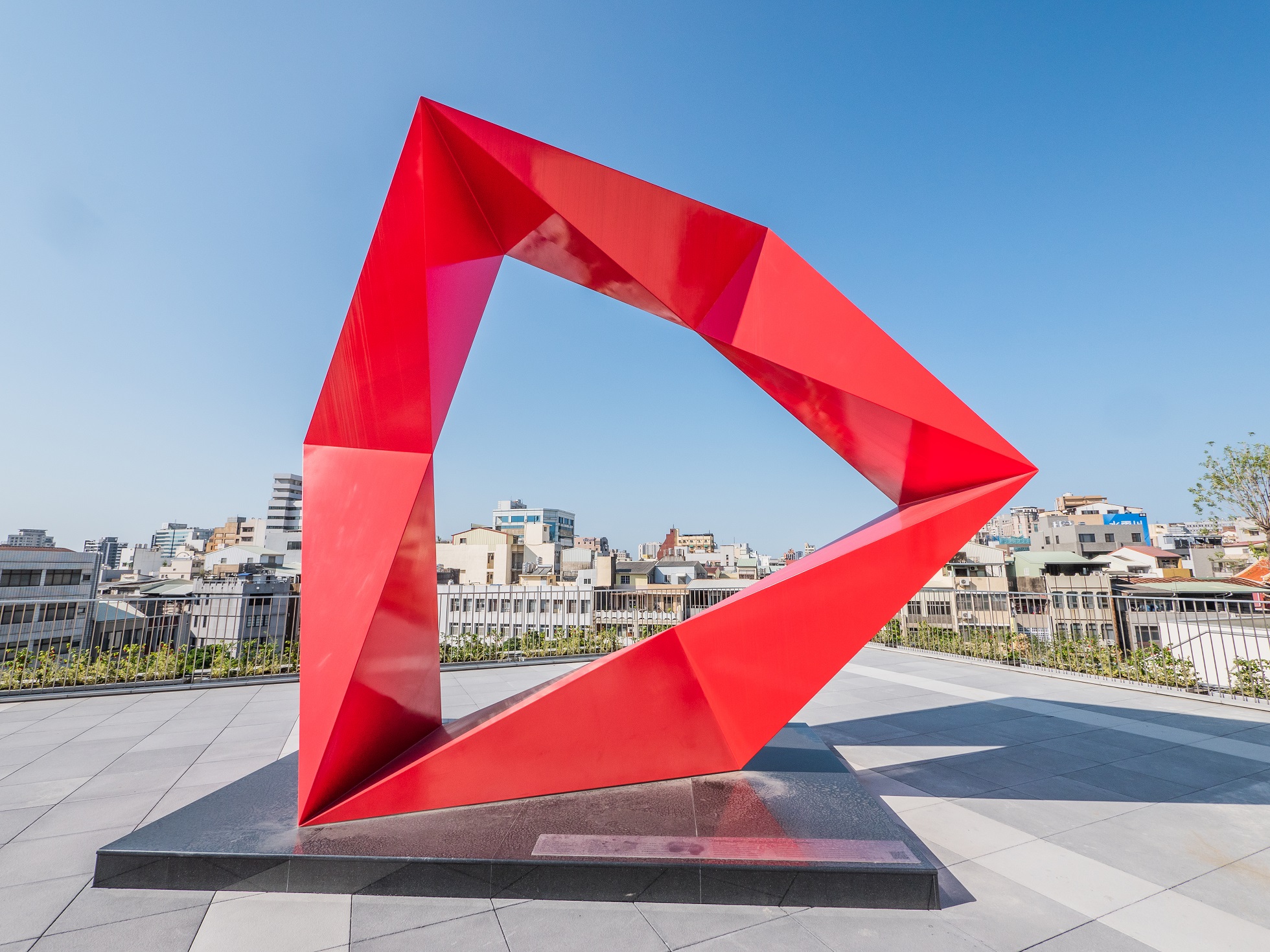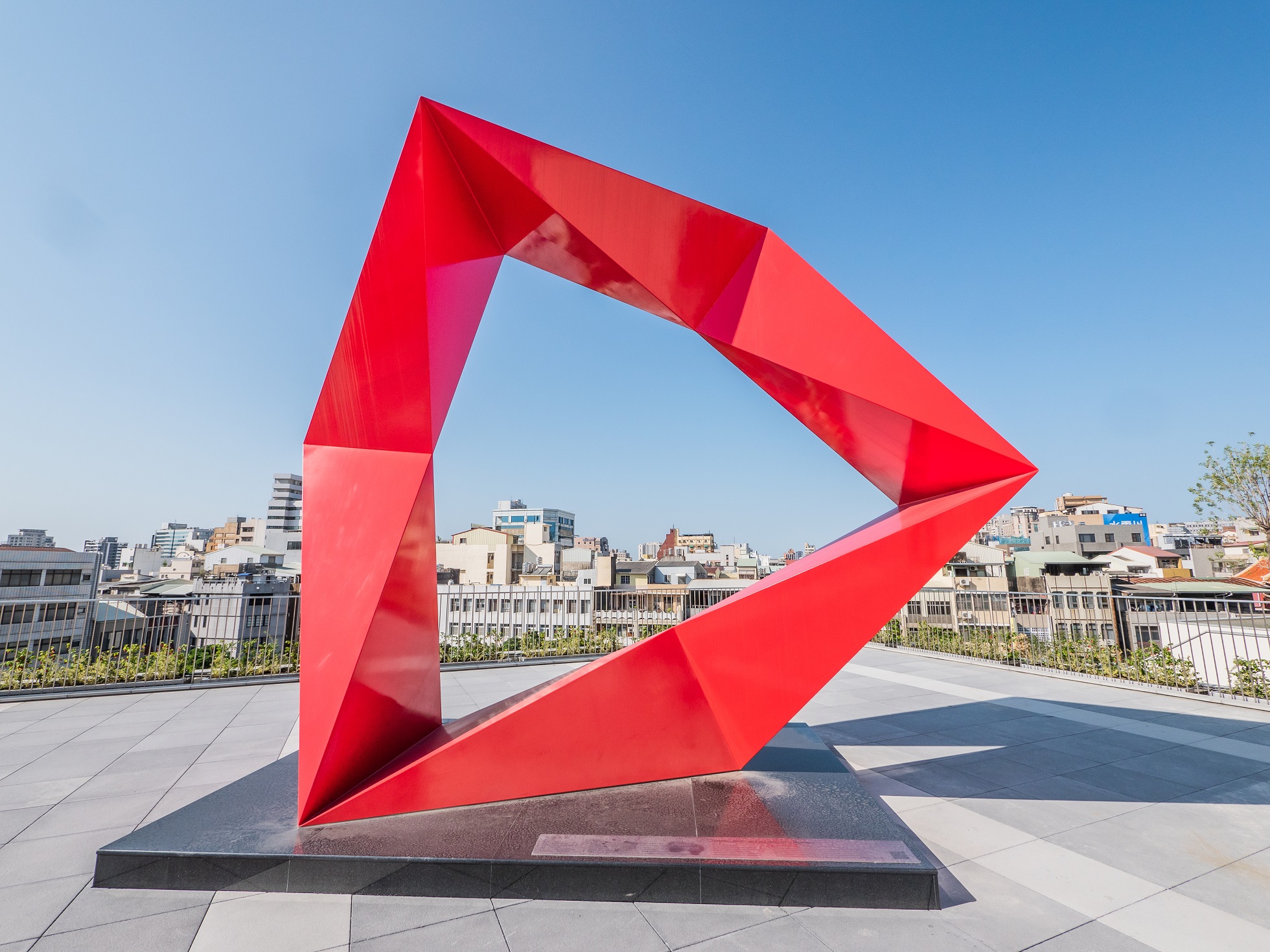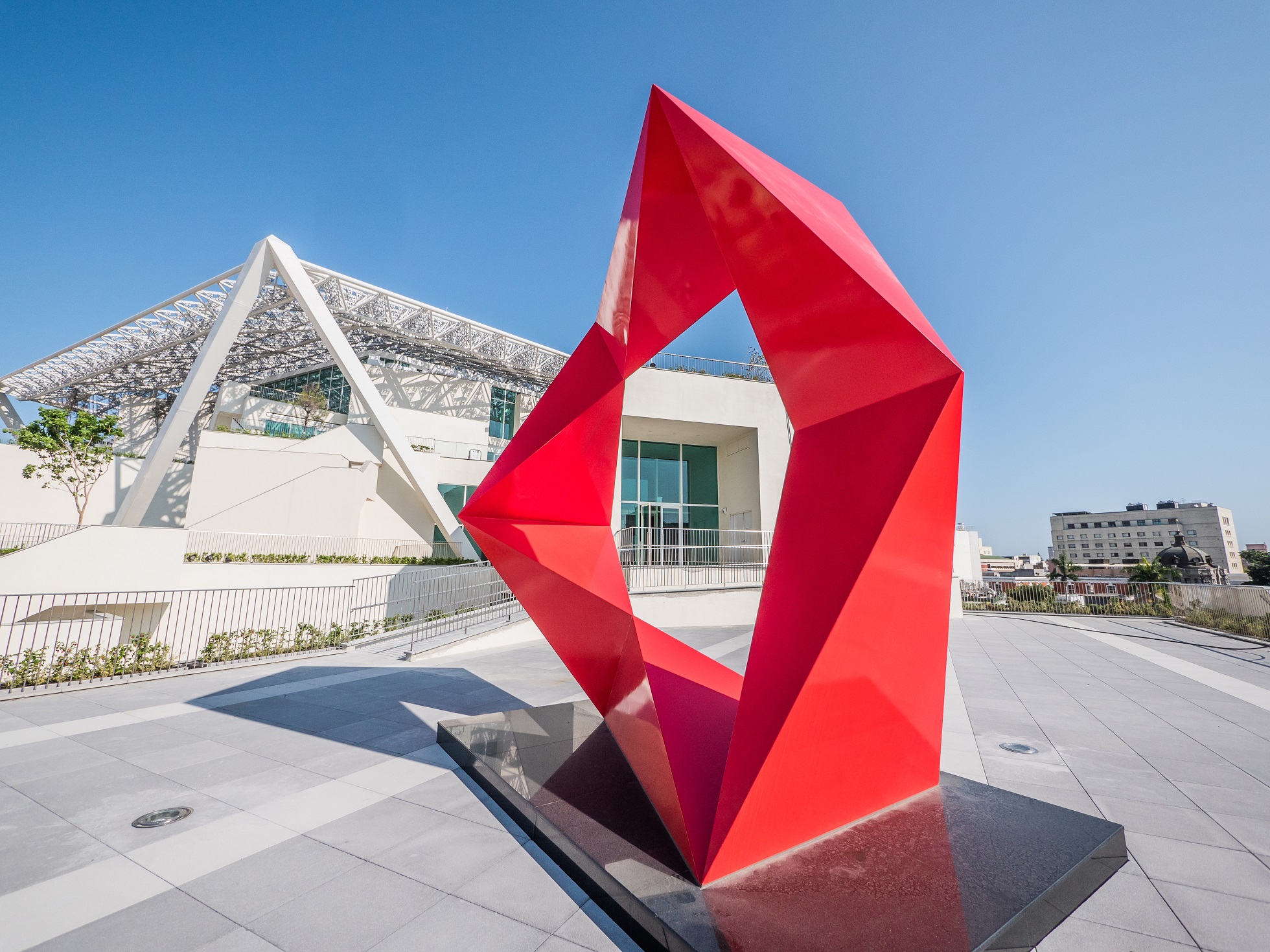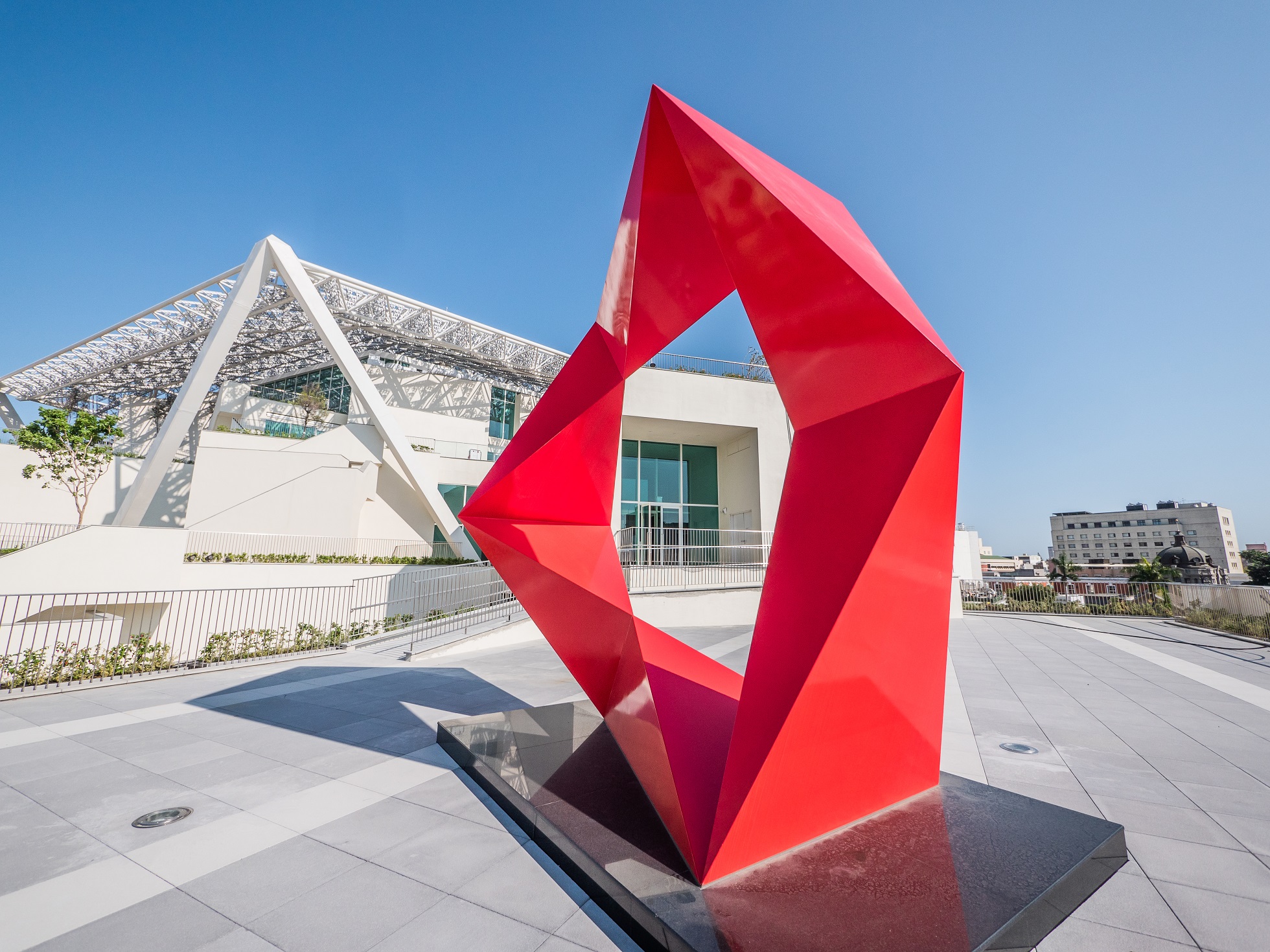 1948 考入臺灣省立師範學院美術系(今國立師範大學)學系
1928 生於中國福建省仙遊縣
1948 Entered National Taiwan Normal University Department of Fine Arts
1928 Born in Xianyou County, Fujian Provincec China
大型雕塑作品
2015 《即時即地》,桃園中正機場第一航廈
2009 《0&1無上有》,高雄SOGO百貨前廣場
2008 《太一》,李再鈐80個展創作,臺北藝術大學校園
2003 《宏不讓》,臺北市立美術館前廣場
1999 《生日快樂》,朱銘美術館開幕應邀展示
1998 《二而不二》,新加坡及高雄國際雕塑節應邀展示
1994 《你的雕塑NO I》,國立臺灣美術館廣場
1993 《元》,國立臺灣美術館廣場
1992 《無限延續》,元智大學校園
1991 《虛實之間》,高雄市立美術館及福華飯店
1986 《合》,中原大學校園
1983 《低限的無限》,國泰環宇大廈中庭
Sculptures
2015 "Here We Are", Taiwan Taoyuan International Airport Terminal 1
2009 "The 0&1 of the Insuperable", Kaohsiung SOGO
2008 "The Great Unity", Taipei National University of the Arts
2003 "Home Run", Taipei Fine Arts Museum
1999 "Happy Birthday", Juming Museum
1998 "Two and Not Two", Singapore and Kaohsiung International Sculpture Festival
1994 "Your Sculpture No 1", National Taiwan Museum of Fine Arts
1993 "Monad", National Taiwan Museum of Fine Arts
1992 "Limitless Continuity", Yuan Ze University
1991 "Between Void and Solid", Kaohsiung Museum of Fine Arts, Howard Hotel
1986 "Combined", Chung Yuan Christian University
1983 "Minimal to Infinite", Cathay Cosmos Building
個展
2016 雕塑個展,創價藝文中心全台巡迴
2008 雕塑個展,國立臺北藝術大學
1985 雕塑個展,雄獅畫廊
1975 雕塑個展,版畫家畫廊
1972 世界名雕塑攝影展,中華畫廊
1969 第一次個展,凌雲藝廊
Exhibition
2016, Solo Exhibition, Taiwan Soka Association Cultural Center
2008, Solo Exhibition, Taipei National University of the Arts
1985, Solo Exhibition, Lion Art Gallery
1975, Solo Exhibition, Printmaker Gallery
1972, World Famous Sculpture Photography Exhibition, Taiwan Art Gallery
1969, 1st Solo Exhibition, Lingyu Gallery